NBA Most Valuable Player
Top 5: Giannis Antetokounmpo, Anthony Davis, Lebron James, Steph Curry, James Harden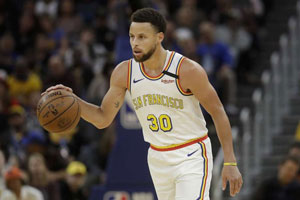 Steph Curry
Winner: Steph Curry ($6.00)
Curry: Opportunity for mammoth usage rate! Teammates gone (KD, Klay out long term) = videogame stats this year if he doesn't burn out or get hurt. Can break his record for threes in a season. If Warriors can finish top 4 in the West he will have a shot.
Harden will put up big numbers even with Westbrook on his team but would take either a ridiculous season from him, or a lack of another standout.
Lebron and Davis playing together is an unknown, do they propel each other to greater heights statistically or do the limit each other's numbers? Also do the Lakers win enough games to be in contention?
Kawhi, Embiid could both be up there in the discussions if they play enough games. Jokic is another one on the radar who can be backed at $11.
NBA Rookie Of The Year
Top 5: Zion Williamson, Ja Morant, RJ Barrett, Rui Hachimura, Michael Porter Jr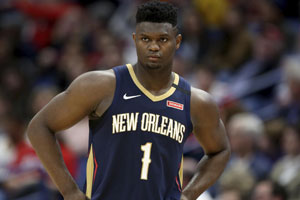 Zion Williamson
Winner: Zion Williamson ($1.72)
Zion: Backing anyone else this season feels more like betting Zion will get injured and not play enough games to take out the award. He will put up big pts, rebounds with decent assists and defensive stats, and the Pels will win enough games to possibly be in the running for that 8th spot in the West.
Morant and Barrett have basically been given the keys to the kingdom in Memphis and New York respectively and could also put up big stats with high usage. Both can be backed in the $5-6 range.
Value picks: Rui Hachimura will be playing for a Washington Wizards team without a lot of output beyond Bradley Beal. In what could be a tanking season, Hachimura may be unleashed early to see what he can do.
Michael Porter Jr – He was the former #1 prospect coming out of high school before he got injured, and in the draft he plummeted bigtime. With last season off, his delayed rookie season starts now, and we've seen in the past that top prospects with experience being around the NBA for their gap year has paid off (Think: Blake Griffin, Joel Embiid, Ben Simmons). Sometimes these guys come in well-polished and make an instant impact. Main problem for him is Nuggets have a loaded team.
Hachimura has firmed in from $41 into $17 odds, and Porter Jr can be backed at $41 odds with Porter Jr Making some sense as a hail mary bet.
NBA 6th Man of the Year
Top 5: Lou Williams, Jaylen Brown, JJ Redick, Rajon Rondo, Kyle Kuzma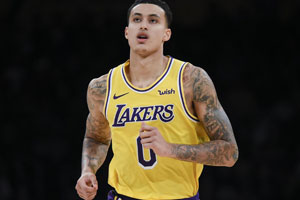 Kyle Kuzma
Winner: Kyle Kuzma
As good as Lou Williams is at producing All-Star like numbers off the bench, he does have more stars that will be getting touches with the addition of PG13 and Kawhi Leonard. That combined with possible voter fatigue might spell the end of his 6th man run.
Kuzma is supposedly coming off the bench and has a chance to average between 16-20ppg this season in a big market team making a title run. Hard to go past Kuzma at this stage. If Lakers start McGee at C Kuzma has a great shot at this.
Brown, Redick and Rondo are all capable of putting up decent numbers off the bench. Montrezl Harrell will be in the mix again too.
NBA Most Improved Player
Top 5: Hassan Whiteside, Pascal Siakam, Shai Gilgeous-Alexander, Jayson Tatum, Terry Rozier
Winner: Terry Rozier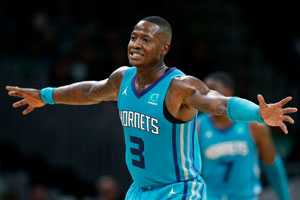 Terry Rozier
All players moving into better situations this season, but none more so than Rozier. Instead of being a back up to Kyrie Irving with the Celtics, Rozier will now have a clear starting gig and spiked usage rate in arguably the worst team this season with Charlotte.
2 seasons back he started 16 games for Boston and averaged 15.6ppg, 6.4rpg, 5.1 ast, 2.8 threes, 1.2stl
Hornet's stats have to come from somewhere, so his upside is in the range of 18-6-6 with some threes, if he can get close to that he'll be a shoe-in for the award.
NBA Division Winner Predictions:
Atlantic: Philadelphia 76ers ($1.67 )
Central Division: Milwaukee Bucks ($1.14)
Southeast Division: Orlando Magic ($2.25)
Northwest Division: Denver Nuggets ($2.30)
Pacific Division: Golden State Warriors ($6.00)
Southwest Division: Houston Rockets ($1.33)
Not much value on Clippers ($1.62) or Lakers ($3.10) as both teams could easily get hit by injuries.
Warriors had a 9 game lead over Clippers and a 20 game lead over the Lakers last season. Paul George is coming in injured and Warriors should be a threat to get 50+ wins again this season, so at $6 odds they are a value bet.
*Odds correct at time of writing
---